In-house exhibition
You want to benefit from the magnetic effect generated by a fair. But sometimes there may be good reasons for a company to prefer the exclusivness of an event outside the exhibition grounds instead of participating in a trade show.
In-house exhibition – This is the case when you reach the decision that a show will be too big, too complex, too confusing. Or even if you want to present yourself only to a previously selected group of participants and not to the entire range of trade visitors . Reasons could be selective distribution concepts and depot system. Especially in the vicinity of fashion fairs (but not only there), showrooms are often used to present products simultaneously.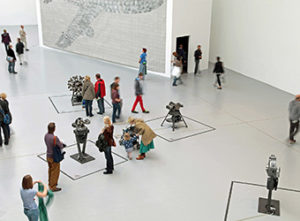 Also for this constellation, Fair Appearance offers a complete service package. Here we can take advantage of our connections to exhibition suppliers to meet the specific challenges of an exclusive trade show.
According to your profile of requirements, we will set the stage for you perfectly. With tailor-made concepts, we will create a special magnetic effect for a perfect self-presentation.
We find the right setting for your company – / product presentation or for your fashion show. From the experience, which Fair Appearance has collected in the event area, we have access to the best venues; regardless of whether functional or embedded in one of the attractive structural options that Barcelona has to offer.
In-house exhibition: Fair Appearance is able to advise you how your (marketing) objectives will be best achieved. We are excellently networked in Barcelona. With us you will get all services from one source.
We accompany you from the planning through implementation to follow-up and evaluation. All this at attractive prices.
The team of Fair Appearance is looking forward to your contact.