Exhibition equipment – Trade Fair & Event Technology
Trade fairs, congresses, meetings and events of all kinds nowadays need the support of well-adapted technological concepts. Normally it does not make sense to purchase all the state of the art equipment needed or to take your own fragile devices to the fairgrounds or event locations.
Exhibition equipment – Based on the experience of the various events already organized by Fair Appearance we can discuss and plan which options of advanced event and presentation technology are available to meet your interests and fit into your budget.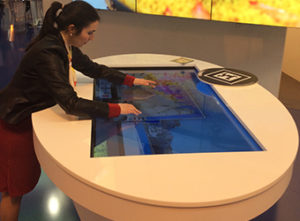 We are sure to find an individual solution to put you in the limelight.
– sound, light or video technology
– IT-technology
– stage construction (individual solution or modular systems)
Exhibition equipment – We can organize:
– LED-walls
– frameless walls
– LED-daylight
– beamers
– touch-displays
– the latest in conference technology
– etc.,etc.
Fair Appearance will take control of the whole process.
With our reliable staff we guarantee for coordination and management, for all necessary logistics and on-site operations.
Please feel free to get in touch.